Posted by Jeremy @ Arbor Teas on October 14, 2015
Tired of pumpkin spice? Expand your horizons with these five spicy teas.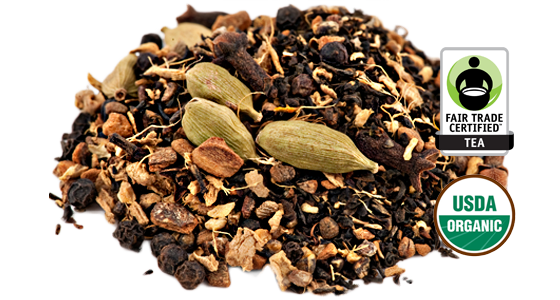 Masala Chai Black Tea

Crisp fall days really do call for a spicy chai. Whether you're taking the kids to the pumpkin patch, or simply raking the leaves, our Organic Masala Chai Black Tea will be a welcome companion. Our blend makes use of traditional blending methods used by South Indian chaiwallahs. As such, we blend small leaf black tea with cardamom, cinnamon, ginger, cloves and black pepper. For a real treat, sweeten this tea with honey or make it a chai latte .

Decaf Masala Black Tea

Does caffeine give you the jitters? Chill out with this Organic Decaf Masala Black Tea blend that's low on caffeine and big on spice. (Curious about our decaffeination method? Read more about it here.)


Masala Chai Rooibos

There's something about rooibos that practically demands chai spice, and there's no better time for it than fall. Our mellow and naturally-sweet Organic Masala Chai Rooibos combines red rooibos with ginger, cinnamon, cardamom and vanilla. It's an excellent tea for winding down in the evening, serving to kids or making lattes – and maybe all three at once!


Orange Spice Lemongrass Tisane

What? You're tired of chai? Here's another spicy herbal blend for you. Our Organic Orange Spice Lemongrass Tisane makes use of lemongrass, which has a mellow sweetness and spice all its own. Because lemongrass tends to be a digestive aid, it's another great tea to relax with in the evening after dinner, or when you're not feeling so hot.

Ginger Chili Tisane

Last, but certainly not least, comes the spiciest of the pack - our Organic Ginger Chili Tisane! With an herbaceous nose of rosemary, citrus, and ginger, its aroma reminds of a fragrant cocktail. But when you give it a sip, you'll be surprised by the warm, lingering heat! The liquor starts off mellow and sweet, and then WHAM - the chili sets in and takes you on a spicy thrill-ride!