Arbor Teas Ceramic Tumbler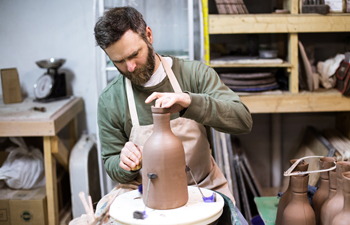 We are delighted to add this tumbler to our collection of American-made teaware. Crafted by our friends at Grayling Ceramics in Kalamazoo, Michigan, this durable stoneware tumbler is designed to easily fit in one hand and is available in two colors inspired by the landscape of our home state. The Lighthouse White tumbler has a soft grey-white matte glaze, reminding of the smooth weathered lighthouses on the shores of the Great Lakes. In contrast, the Pine Green tumbler has a dark green matte glaze flecked with black, reminiscent of Michigan's shaded pine forests. Both tumblers feature the Arbor Teas logo. The unglazed base is smooth and comfortable to hold. All glazes are non-toxic and lead-free.
Please note: because each tumbler is individually handmade, variations in shape and color do occur and are celebrated!
Holds 9-11 oz. Dishwasher and microwave safe.
Made in the USA.
Staff Perspectives
Aubrey

"I love cradling this tumbler between my hands on a cold winter day because the ceramic body gets warm when filled with hot water. But, if you prefer to have a handle on your cup, check out the Arbor Teas Ceramic Mug!"

Chelsea

"The Pine Green is my go-to cup every single day, I love drinking out of a tumbler and this one holds just the right amount of tea."