Matcha Bowl Raw Turquoise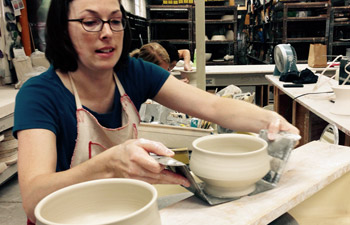 Designed and created by Autumn Aslakson of the Ann Arbor Potters Guild, this matcha bowl is a lovely interpretation of the traditional chawan. As part of our collection of American-made teaware, it embodies the spirit of the next generation of artisanal potters – form, function and convenience! With a shape and weight that is pleasing to the hand and mouth, this matcha bowl is not only perfect for preparing organic matcha, but is also dishwasher and microwave safe.
The bowl has a smooth white interior glaze that provides the ideal backdrop for the bright green liquor of matcha, and an exterior glaze reminiscent of its namesake that gracefully wraps over the lip of the basin. All glazes are non-toxic and lead-free (just like our other matcha bowl designs).
Please note: because each matcha bowl is individually handmade, variations in shape and color do occur and are celebrated!
Color: Raw Turquoise (also available in Burnished Rust)
Measurements: 4.5 inches diameter x 2.75 inches height
Holds approximately 12 oz of liquid.
Made in the USA.