Organic Makaibari Estate Silver Tips White Tea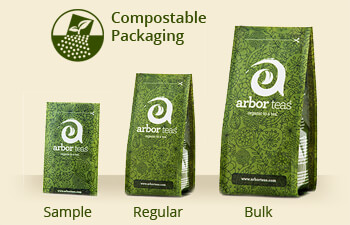 This extremely limited Fair Trade Certified, organic white tea is biodynamically farmed at the Makaibari estate in India's Darjeeling district. We only receive a small amount of this elusive tea, every so often. This most recent lot comes from the 2022 production and boasts beautifully sweet and floral notes. Available while supplies last!
Established in 1859, Markaibari is the oldest estate in Darjeeling, where a strong commitment to sustainable farming prevails. This organic tea consists of leaves of various shades of green and brown, with silver and beige downy buds. They produce a light, golden-amber infusion, with an inviting character. By far the richest and earthiest of our white teas, the aroma and cup of this tea is true to its Darjeeling origin with notes of citrus and muscatel layered over a slight sweetness.
Ingredients: organic and Fair Trade Certified Indian white tea
Origin: Makaibari Estate, Darjeeling, India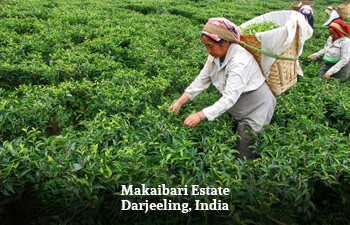 Located in eastern India, Darjeeling is nestled at the foothills of the Himalayas and tucked between Bhutan and Nepal. It is one of the most famous regions in the world for tea production, and has a long history of tea cultivation dating back to the early 1800s. Black teas are the most traditional types of tea from this area, but more recently white, green and oolong teas have been manufactured. Darjeeling's highland subtropical climate and elevation (6000 feet above sea level) make it ideal for growing tea. Makaibari Tea Estate was founded in 1859, and is the oldest and steepest estate in Darjeeling. Makaibari is a biodynamic and organic certified tea garden and follows a form of "integrated forest management." They also use permaculture in many of their practices. Certified Fair Trade in 1993, Makaibari has used their premiums to provide stipends for University studies, microfinance programs, education investments and health training, among many other initiatives.

Read our field notes from our visit to Makaibari!
Steeping Instructions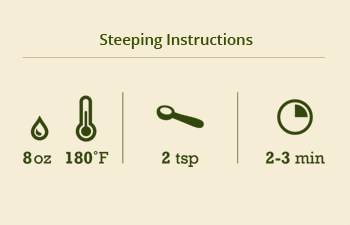 At Arbor Teas, we believe tea should be brewed to suit your personal taste. We're happy to make recommendations to get you started, but don't hesitate to experiment! When brewing your tea, your main considerations are tea quantity, water temperature, and steeping time. We recommend green and white teas to be steeped for 2 to 3 minutes in water heated to not-quite-boiling, just as bubbles begin to form on the bottom of the pan (approximately 170 to 180 degrees F). For the best flavor, use fresh water whenever possible. Try not to steep your tea longer than necessary, as you'll extract undesirable bitterness from the leaves. If you want a stronger brew, don't steep longer, just use more tea. And don't forget to re-steep your tea leaves to get the most out of your leaf!
Looking for more info? Check out our How-To Guides and Eco-Brewing Tips!
Staff Perspectives
Trish

"I love the delicate, slightly floral taste of this white. It almost resembles an oolong, as I can usually steep it multiple times and enjoy the flavor in many cups!"

Aubrey

"There is something a bit spicy in this tea that reminds me of a white version of a Chinese Keemun."
Health Benefits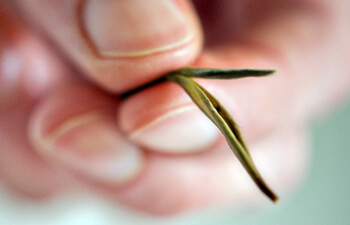 Like all true tea, white tea offers many potential health benefits. Research has found that tea (Camellia sinensis) can have many positive effects on human health, including improved cardiovascular function, cancer risk reduction, improved immune function, improved oral health, and help with weight management. Tea is also full of polyphenols, which are a class of antioxidant that help your body maintain homeostasis and balance your stress levels. Researchers have also found that when applied topically, white tea may help prevent wrinkles and protect from sun damage. It's also been demonstrated that white tea extract can inhibit the production of fat.
For more information about the health benefits of white and other types of tea, and for direct sources of the above information, check out our Tea Health Benefits page!
Please note: the information above is for educational purposes only and has not been evaluated by the Food and Drug Administration. This information is not intended to diagnose, treat, cure, or prevent any disease.