Arbor Teas Ceramic Tea Mug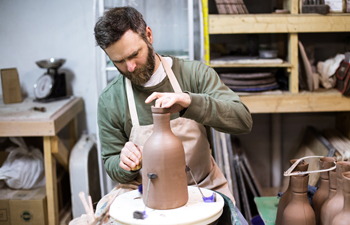 Handmade for Arbor Teas by Grayling Ceramics in Kalamazoo, Michigan, this hearty mug displays an historic botanical illustration of the tea plant, Camellia sinensis. Perfect for the tea lover wanting to show off the plant that makes it all happen (!) or the mug lover looking to add a unique piece to their collection. This American-made mug has the perfect sized handle for small and large hands alike and its durable stoneware body stands up to the rigors of a busy environment. Pair it with an infuser for the perfect teaware combo.
Available in cream glaze with an unglazed base that is smooth and comfortable to hold. All glazes are non-toxic and lead-free.
Please note: because each mug is individually handmade, variations in shape and color do occur and are celebrated!
Holds 10-13 oz. Dishwasher and microwave safe.
Made in the USA.
Staff Perspectives
Trish

"I love drinking my tea out of this mug, it's the perfect size, nice and sturdy and warms my hands without burning them."

Aubrey

"This is my new favorite mug! The historic botanical drawing is almost 150 years old from a US Report of the Commissioner of Agriculture."