Coconut Thai Iced Tea Pops by Killing Thyme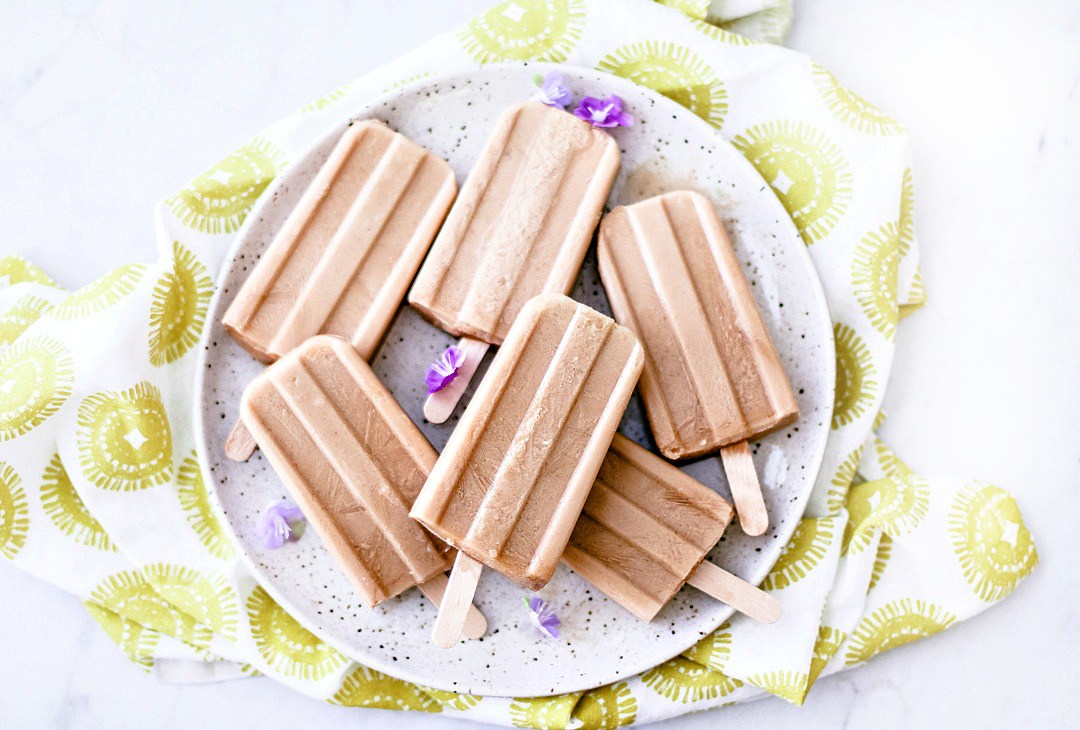 Words, photo and recipe by Dana at Killing Thyme.
Ok so listen. I don't do dessert-y type things often. But these Coconut Thai Iced Tea Ice Pops? They're worth blogging about.
They're also about to become incredibly necessary because today, as you may already know, is the first day of summer—even though most of us have been experiencing scorchers for weeks now. (I'm looking at everyone here with me in the hot and sticky South.)
In the dead of summer, it's not even about having dessert anymore; it's about having something to help you cool off and hey, it might as well be tasty.
But! Before you reach for those sugar-packed pops at the store, I want to put these naturally-sweetened treats on your radar. Think black tea infused with lemongrass, cool and creamy coconut milk, and honey…
This isn't your typical icy pop, but it certainly does the trick. Especially for tea lovers who want to indulge yet have to take a hard pass on steamy tea when it's a steamy 97 degrees out.
These pops have a slightly creamy consistency that offer your tastebuds the essence of coconut, lemongrass, and a touch of sweetness. The great thing is that you can very easily adapt the flavors to your taste during the prep process, so if you need more sweet, add more honey, etc.
Serves 10
Ingredients
20

oz

brewed Arbor Teas Organic Thai Iced Tea, cooled

I steeped 5 tsp of the loose leaf tea for a moderate strength brew

1

cup

coconut milk

2

TBSP

lemongrass paste

You can use store-bought or grind your own from lemongrass stalks; the ratio is the same either way

1/4

cup

raw organic honey
Materials:
10-piece ice pop mold + popsicle sticks

Tea infuser
Directions
In a small saucepan, bring 20 oz of water to a light simmer over medium heat. In the meantime, fill the tea infuser with 5 tsp of the tea. (You can adapt this amount based on how strong you'd like the tea.)Once the water is simmering, remove the saucepan from the heat and immerse the tea infuser full of tea into the water. Let the tea steep for 3-5 minutes, depending on your preference of strength. Please note that the other ingredients will mellow out the boldness of the tea once added and frozen.
Once the tea is steeped, remove the infuser and allow the brew to cool to room temperature. You can speed this process up a bit by filling the sink with icy water, to about 2 inches, and letting your pot sit in it.
Once cooled, whisk in the coconut milk, lemongrass, and honey. Mix until the mixture is well combined. Give it a taste and adjust it to your preference, if needed.
Carefully fill the ice pop molds as per the manufacturer's directions (some advise to leave a bit of space at the top of the molds to allow for expansion). When you've filled your molds, pop them into the freezer overnight.
Most molds will require you to give the exterior of the mold a quick rinse under cool water before trying to remove the pops; this step helps to release the pops from the molds with ease and without breaking them.