Gaiwan Set Aslakson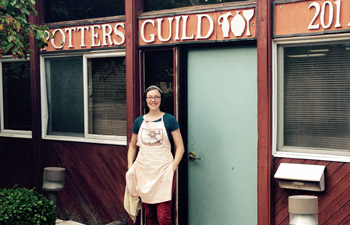 This piece of original American-made teaware is a re-interpretation of the classic Chinese gaiwan. Gaiwans are traditionally comprised of three parts (saucer, bowl, and lid). Our three-piece set includes a taller bowl, nesting cup, and toothed lid (to help strain the tea leaves). Although larger than most traditional gaiwans, this petite set is designed to prepare tea for one person and is best suited to brew our organic oolongs and other larger-leafed teas.
Gaiwans are one of the easiest ways to brew tea without the use of a strainer. Simply place tea leaves in the bowl, fill with hot water, and decant through the toothed lid into the teacup. Keep it by your desk and continue to refill with hot water throughout the day. It's a beautiful piece that can elevate your daily tea preparation ritual.
Created by Autumn Aslakson of the Ann Arbor Potters Guild (the potter behind our Matcha Bowls Aqua Drip, Burnished Rust, and Raw Turquoise), this gaiwan features a distinctive crackled glaze in lustrous pale jade green. Each piece has a unique and delightful crackling pattern that evokes a vintage feel of broken glass. Autumn's work represents the spirit of the next generation of artisanal potters – form, function and convenience! With a shape and weight that is pleasing to the hand and mouth, this gaiwan is also dishwasher and microwave safe. All bowls and cups have a smooth off-white interior glaze that provides the ideal backdrop for enjoying the liquor of your tea, and an exterior glaze that gracefully wraps over the lip of the basin.
Please note: The ceramic may become hot during brewing, so please use care when decanting. Additionally, because each gaiwan is individually handmade, variations in shape and color do occur and are celebrated!
Measurements:
Bowl: 3.5 inches height (4 inches with lid) x 3.5 inches diameter (holds roughly 8 ounces liquid)
Cup: 2.5 inches height x 2.5 inches diameter (holds roughly 2 ounces liquid)
Made in the USA.