Matcha Affogato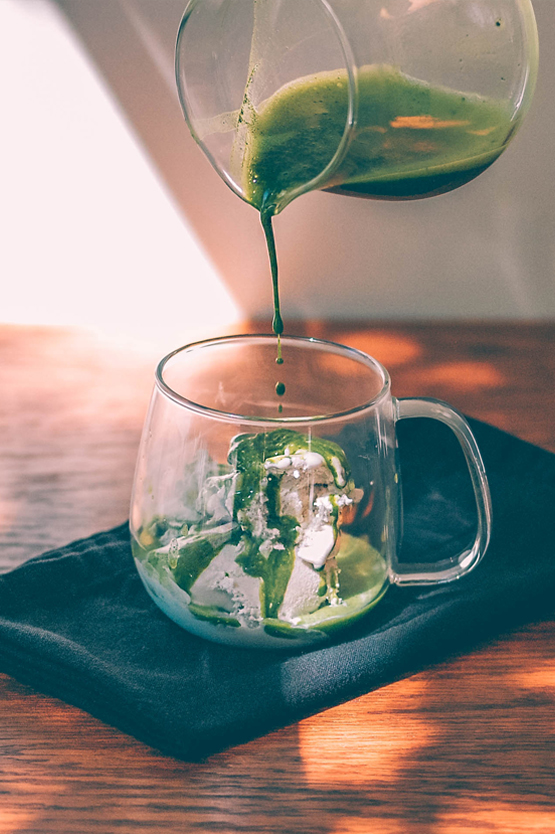 An Italian favorite, traditionally an affogato is made with vanilla ice cream or gelato, with a shot of espresso poured over it. The word "affogato" actually means "drowned" in Italian, and what could be better than drowning ice cream in a delicious beverage? For this recipe, we put a tea spin on this elegant dessert. Instead of espresso, drown your ice cream in a thick shot of matcha. Grassy and smooth matcha compliments creamy sweet ice cream for a simple treat that is easy to make whenever a matcha or ice cream craving hits!
Preparing your matcha with hot water will create the "drowned" effect over ice cream, melting it to a beautiful yin and yang of ice cream and matcha. But if you're partial to a less melty treat, prepare your matcha with cold water. Our favorite ice cream choice is a coconut vanilla, but we can imagine that vanilla bean, chocolate, strawberry or raspberry would be lovely, too!
Serves 2
Ingredients
2 tsp organic Cooking Grade Matcha
4 scoops ice cream (we used coconut vanilla, but choose your favorite!)
~3oz water
Directions
Sift two teaspoons of matcha into a matcha bowl, or a bowl with a flat base and high sides.
Add about 3oz of water to bowl - can be hot or cold!
Whisk matcha into water, either using a bamboo whisk, electric whisk, or small kitchen whisk. The mixture should be slightly thick.
Put two scoops of ice cream in two bowls.
Pour matcha slowly over ice cream, and dig in!
Recipe by Arbor Teas Staff