Matcha Gift Set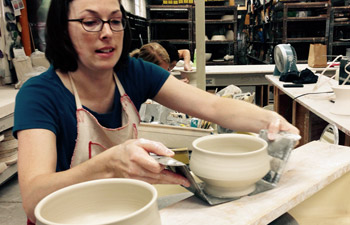 Whether you are introducing someone to Matcha or gifting to an avid Matcha lover, this gift set will be sure to please! Featuring a regular size of our organic ceremonial grade matcha (Usu-cha), a bamboo matcha whisk, and an artisan matcha bowl handmade by potter Autumn Aslakson, our Matcha Gift Set celebrates one of Japan's most revered beverages. Available in a burnished rust or raw turquoise glaze, the matcha bowl is not only lovely to look at, but the perfect shape for preparing matcha. Burnished Rust offers a smooth metallic, fiery exterior that contrasts nicely with the textured Raw Turquoise, reminiscent of its namesake.
Matcha is a variety of tea from Japan that is stone ground at the end of the manufacturing process, resulting in an ultra-fine tea powder that is typically whisked in hot water until a frothy consistency is reached, as in the traditional Japanese Tea Ceremony. The resulting brew has gained much attention recently for its purported health benefits and brothy, vegetal flavor.
Reviews
We always want to hear from you! Post your own review and earn 10 rewards points.