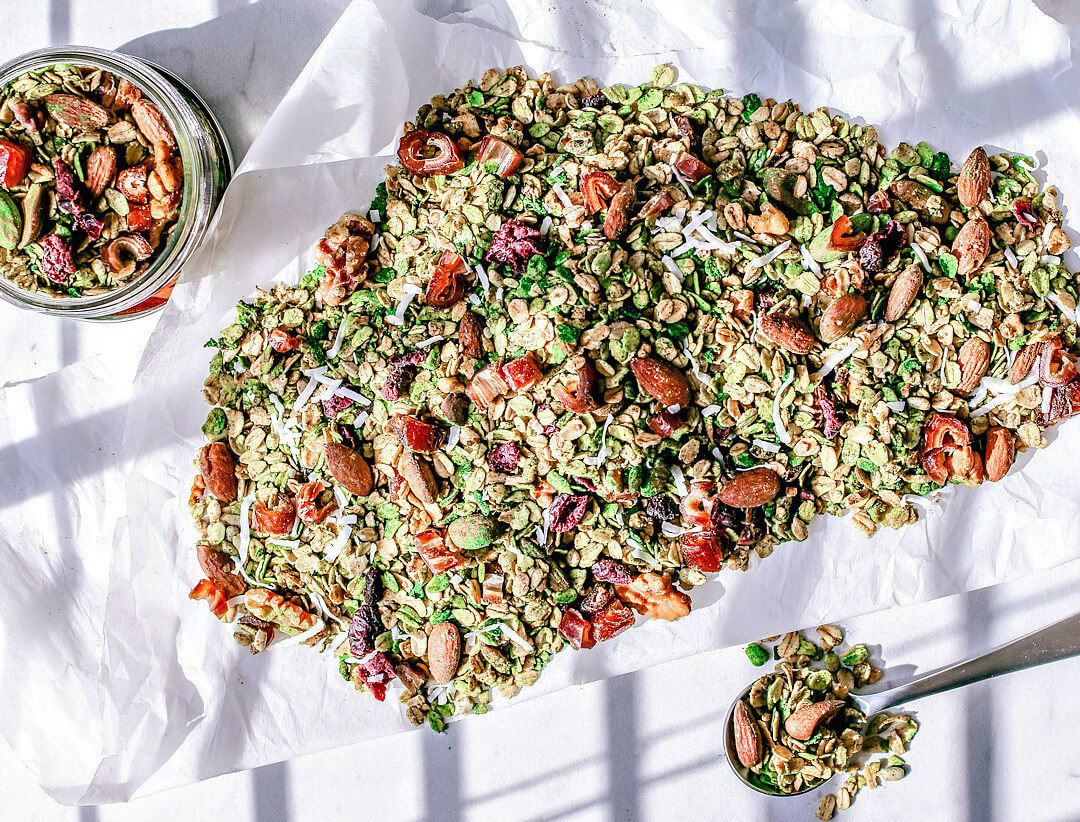 Words, photo and recipe by Dana at Killing Thyme.
This time of year is so dreary and uninspiring.
September and October content writes itself with the deluge of pumpkin curries and butternut squash soups. November and December are chock-full of heavy comfort foods and holiday prep, and January has us whipping up robust salads in order to get our dignity back.
But February. February is a head-scratcher, especially if you aren't into dying all of your food pink and red.
Luckily, inspiration tends to hit me unexpectedly. Like when I'm standing in my morning-lit kitchen sipping a cup of matcha tea and making a batch of cinnamon-infused granola.
I wonder what these two things would be like together?
I love accidental success.
Matcha Granola.
Matcha brings granola to a whole new level of awesome with it's slight bitterness and earthiness. And, with the cinnamon and maple syrup, it still caters to the American palate. Thanks to big chain coffee joints, America hasn't been enjoying the matcha the same way that Japan has been enjoying it for centuries — whisked in a small bowl with hot water; no milk or sugar. Here, we've been sipping sweet and milky lattes that could easily be dubbed as the Shamrock Shake's older and slightly more sophisticated cousin. My hope is that this recipe brings the matcha sweetness we've grown to know and love here in America together with the true raw vegetal flavors being sipped in Japan.
This matcha granola is tossed with cinnamon, maple syrup, unsweetened coconut, raw nuts, raw seeds, chopped dates, and dried cranberries. Pop it in your mouth as a healthy snack, sprinkle it over yogurt, or splash some milk over it for a fab start to your day.
Serves 8
Ingredients
3 cups rolled oats
1/2 cup raw almonds
1/2 cup raw walnuts
1/4 cup raw sunflower seeds
1/2 cup unsweetened coconut flakes
1 TBSP ground cinnamon
1 TBSP coconut palm sugar can use brown sugar
1/4 tsp kosher salt
1/4 cup pure maple syrup can use honey
1/4 cup melted coconut oil
1/2 cup roughly chopped dates
1/4 cup dried cranberries
Directions
Preheat oven to 250º F.
In a large bowl, combine oats, nuts, seeds, coconut, cinnamon, and sugar.
In a separate bowl, combine coconut oil, maple syrup, and salt. Whisk well, and pour the mixture over the oat mixture; toss to coat.
Spread the mixture out onto a large baking sheet and bake for 1 - 1.5 hours, stirring the mixture every 15 minutes with a spatula or wooden spoon.
When done, remove from oven and let cool. Scrape the granola into large bowl, then sprinkle the matcha over and toss to coat. Add in the dates and cranberries, and toss.
Keep sealed in a freezer bag or container for up to three weeks.