Arbor Teas Ceramic Mug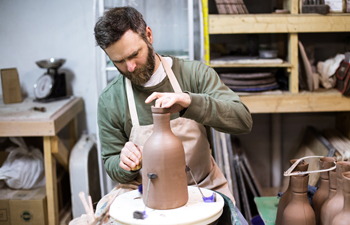 Finding the perfect mug is a must at Arbor Teas; and this American-made mug is one of the most sought after items in our work kitchen! Not only is it special because it is crafted by Grayling Ceramics in Kalamazoo, Michigan, but it has the perfect sized handle for small and large hands alike and its durable stoneware body stands up to the rigors of a busy environment. Pair it with an infuser for the perfect teaware combo.
Available in two colors inspired by the landscape of our home state of Michigan. The Pine Green mug has a dark green matte glaze flecked with black, reminiscent of Michigan's shaded pine forests. Our Lakeside Blue mug features a soft matte blue glaze, evocative of summer evening strolls along the lakeshore. Both mugs feature the Arbor Teas logo. The unglazed base is smooth and comfortable to hold. All glazes are non-toxic and lead-free.
Please note: because each mug is individually handmade, variations in shape and color do occur and are celebrated!
Holds 10-13 oz. Dishwasher and microwave safe.
Made in the USA.
Staff Perspectives
Trish

"I love drinking my tea out of this mug, it's the perfect size, nice and sturdy and warms my hands without burning them."

Aubrey

"Want a simpler cup with no handle? Check out the Arbor Teas Ceramic Tumbler!"