Organic Chocolate Pu Erh Tea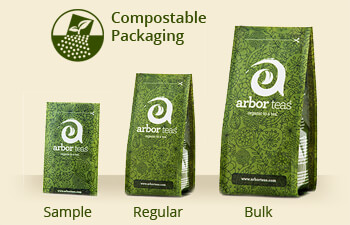 This wonderfully aromatic, organic loose leaf tea combines Pu-erh, a traditional Chinese dark tea, with an American favorite - chocolate and almonds. While Pu-erh teas have grown in popularity in the US because of their smooth rich taste and health benefits, some consumers still do not prefer their unique earthy aroma. Our Organic Chocolate Pu-erh Tea offers the perfect solution! With a rich bouquet of almond and chocolate, this tea brews up dark brown with a medium body that has no astringency or bitterness. The mellow cup tastes earthy with hints of carob and almond. Add a little sugar, to enhance the chocolate flavor! Read our blog post about our trip to Pu Erh, China!
Ingredients: organic Chinese pu-erh tea, organic cacao nibs, and natural chocolate and almond flavors
What are Flavored Teas?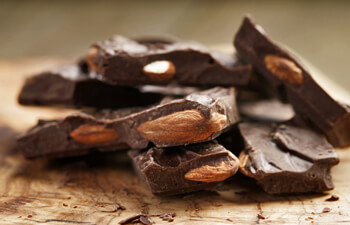 Our delicious flavored teas use the same top-quality organic tea that we offer in our unflavored varieties, but are blended with pieces of real fruit, spices, flowers, and 100% natural flavors. When blending our teas, our goal is to create a cup that balances the taste of the tea with the flavors of the additional ingredients so that neither one overpowers. All of the natural flavors we use are either extracts taken directly from the botanical ingredient, or extracted using 100% GMO-free grain alcohol as a solvent. You can rest assured that none of the flavors used in our blends are synthetically or artificially derived, and do not use artificial preservatives.
Steeping Instructions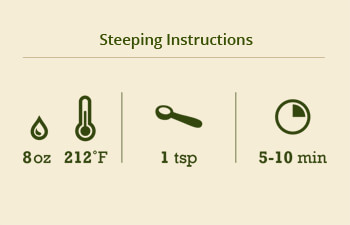 At Arbor Teas, we believe tea should be brewed to suit your personal taste. We're happy to make recommendations to get you started, but don't hesitate to experiment! When brewing your tea, your main considerations are tea quantity, water temperature, and steeping time. We recommend pu-erh teas to be steeped for 5 to 10 minutes in water heated to a full, rolling boil. For the best flavor, use fresh water whenever possible, and avoid overboiling. Try not to steep your tea longer than necessary, as you'll extract undesirable bitterness from the leaves.If you want a stronger brew, don't steep longer, just use more tea. And don't forget to re-steep your tea leaves to get the most out of your leaf!
Looking for more info? Check out our How-To Guides and Eco-Brewing Tips!
Staff Perspectives
Sarah

"Think dark chocolate rather than milk chocolate, with no bitterness. Add sugar to recreate a dark chocolate Almond Joy or marzipan-like delight!"

Jeremy

"As a Pu-erh tea "purest", I was hesitant to develop this tea. But I have to admit, that I am pleasantly pleased by the result. Even Pu-erh lovers will enjoy the combination of chocolate, almond, and Pu-erh."

Aubrey

"I recommend brewing this tea for at least 5 minutes. The darker it gets, the more full-bodied and better it gets!"
Health Benefits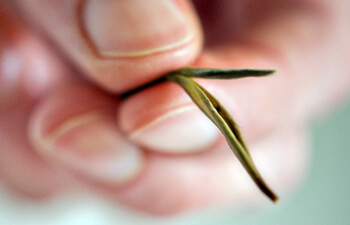 Like all true tea, pu erh tea offers many potential health benefits. Research has found that tea (Camellia sinensis) can have many positive effects on human health, including improved cardiovascular function, cancer risk reduction, improved immune function, improved oral health, and help with weight management. Tea is also full of polyphenols, which are a class of antioxidant that help your body maintain homeostasis and balance your stress levels. Pu-Erh specifically has been used in Chinese medicine to support gut health, weight loss, and lower cholesterol.
For more information about the health benefits of pu erh and other types of tea, and for direct sources of the above information, check out our Tea Health Benefits page!
Please note: the information above is for educational purposes only and has not been evaluated by the Food and Drug Administration. This information is not intended to diagnose, treat, cure, or prevent any disease.
Pu Erh: A National Secret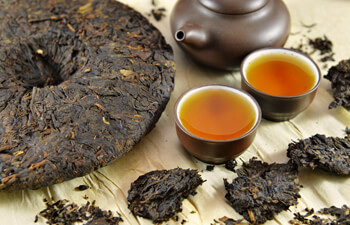 Pu-erh, a city located in the Yunnan Province of China, is the namesake of pu-erh tea, the most famous subset of Chinese heicha (dark tea). Pu-erh processing is a closely guarded secret. Each tea garden has a unique recipe and prides itself on its own distinctive creation. Properly cared for, pu-erh tea is actually alive as enzymes in the tea are allowed to age, greatly enhancing the tea's flavor over time. This is accomplished by introducing a small amount of moisture at the end of the manufacturing process and allowing the retention of that moisture in the final tea leaf; then aging the leaf in a controlled environment. Pu-erh is the only "aged" tea, and can be fully-oxidized like black tea or unoxidized like green tea. Qing Cha (sometimes referred to as "raw" or "green" pu-erh) is the oldest and most famous version of pu-erh processing. Shu Cha ("ripe" or "cooked" pu-erh) is an accelerated version of Qing Cha that was developed in 1972 to help meet consumer demand. Both methods can produce an excellent tea that improves in value and taste with time, and can be finished as loose leaf tea or pressed into shapes. Pu-erhs that have been aged for 10, 15 or even 25 years and beyond are typically unavailable outside China and are served only to high ranking officials and dignitaries.
For even more information about this and other traditions, visit our Tea Traditions Page!