Organic Nepal Black Tea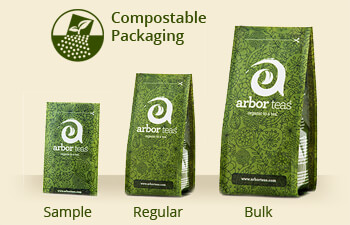 This beautiful, organic black tea hails from the Kanchanjangha Tea Estate in Nepal. Nestled in the foothills of Mt. Kanchanjangha, this is the first tea estate in Nepal to receive organic certification. The tightly twisted dark leaves and golden tips highlight the superior craftsmanship of the tea master and offer an aroma of fall leaves. When brewed, the leaves produce a bright, amber cup with a dry, light-bodied liquor that wicks off the tongue quickly. Offering sweet notes of brown sugar, this smooth organic black tea is reminiscent of a baked molasses cookie that becomes more toasty with subsequent steeps.
Named "Kumari", this tea carries a title of special significance. Kumari not only means "Living Goddess" in the Nepali language, but is also the middle name of the founder's wife. She planted the first tea bush at the estate in 1984 (which was their backyard at the time) and has since served as one of the main advocates for and caretakers of the farmers and factory workers on the estate. Today, more than 600 farmers are employed by the Kanchanjangha Tea Estate which provides free schooling for their children and housing for all.
Ingredients: organic Nepalese black tea
Origin: Kanchanjangha Estate, Panchthar, Nepal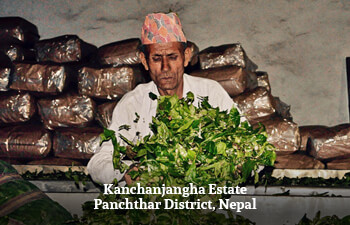 High altitudes and hilly tea gardens have made Nepal an important country for tea production. Tea has been growing here since the 1800s, and in the 1900s Nepal supplied parts of Darjeeling with tea. Often interchanged for one another on the market, tea from Darjeeling and Nepal do have different flavor profiles and Darjeeling has gone to great lengths to try to distinguish itself from its close neighbor. Orthodox tea production in Nepal has had a great influence on its economy, with many farmers transitioning to growing only tea. The Kanchanjangha Tea Estate and Research Center is considered to be one of the pioneers of organic farming in Nepal and is also the first certified organic tea garden in Nepal. It is located in Ranitar in the remote hilly region of Panchthar district. Today, more than 600 farmers are employed by the Kanchanjangha Tea Estate which provides free schooling for their children and housing for all.

Read our field notes from our visit to Kanchanjangha!
Steeping Instructions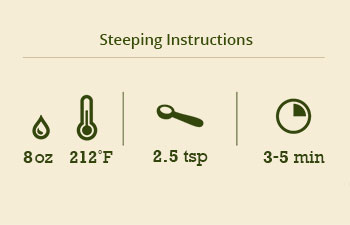 At Arbor Teas, we believe tea should be brewed to suit your personal taste. We're happy to make recommendations to get you started, but don't hesitate to experiment! When brewing your tea, your main considerations are tea quantity, water temperature, and steeping time. We recommend black teas to be steeped for 3 to 5 minutes in water heated to a full, rolling boil. For the best flavor, use fresh water whenever possible, and avoid overboiling. Try not to steep your tea longer than necessary, as you'll extract undesirable bitterness from the leaves. If you want a stronger brew, don't steep longer, just use more tea. And don't forget to re-steep your tea leaves to get the most out of your leaf!
Looking for more info? Check out our How-To Guides and Eco-Brewing Tips!
Staff Perspectives
Chelsea

"I love the brown-sugary notes in this, one of my favorite cozy black teas."

Sarah

"When I first tried this tea I was delighted at how long it lingered in my mouth -- 5 hours later I was still enjoying its sweetness!"

Aubrey

"Sourced from the same estate as our Organic Nepal Green Tea, this tea has a similar mouthfeel to a Darjeeling 2nd Flush, but with a sweet, toasty flavor profile."
Health Benefits
Like all true tea, black tea offers many potential health benefits. Research has found that tea (Camellia sinensis) can have many positive effects on human health, including improved cardiovascular function, cancer risk reduction, improved immune function, improved oral health, and help with weight management. Tea is also full of polyphenols, which are a class of antioxidant that help your body maintain homeostasis and balance your stress levels. Black tea specifically has been found to regulate blood sugar in diabetics better than other types of tea, according to a study done by the University of Massachusetts Amherst.
For more information about the health benefits of black tea and other types of tea, and for direct sources of the above information, check out our Tea Health Benefits page!
Please note: the information above is for educational purposes only and has not been evaluated by the Food and Drug Administration. This information is not intended to diagnose, treat, cure, or prevent any disease.