Organic Rooibos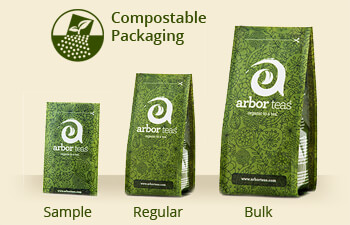 Our organic, Fair Trade Certified rooibos (pronounced ROY-bus) is an herb native to the beautiful Cederberg region of South Africa. Our superior grade rooibos has small needle-like leaves that yield a dark red infusion with notes of honey, apricots, and mesquite wood and contains no caffeine.
The tasty aromatic infusion of the wild Aspalathus linearis plant was commercialized at the turn of the 19th century. It was originally harvested by hand, chopped with axes, and bruised with hammers then left to ferment before drying in the sun. Now, due to demand, rooibos is cultivated rather than collected from the wild. Rooibos seeds are planted in February and March and tended for 18 months, after which they are harvested. Cut rooibos is bound and milled to a uniform length then bruised between rollers to trigger the fermentation process and finally dried in the sun, which results in its characteristic flavor and sweet aroma.
Ingredients: organic and Fair Trade Certified South African rooibos
Origin: Driefontein Co-op, Cederberg, South Africa
Rooibos only grows in the mountainous Cederberg region 400 miles north of Cape Town on the western edge of South Africa. The Cederberg Mountains are famous for their dramatic, wind-carved sandstone formations like the Maltese Cross and the Wolfberg Arch, well-preserved prehistoric rock paintings by the early San people, and the rare Clanwilliam Cedar trees from which the area takes its name. Arable land is limited by the altitude, dry climate, and rocky terrain of this area. Rooibos is the most famous export, though fruit, tobacco, honeybush, and grapes are also harvested on some farms.
The Driefontein Small Farmers Co-op is located near Redelinghuys in the heart of rooibos country. The 36 members have been operating as a farming cooperative since 2010. Their success has hinged on their considerable knowledge of rooibos - handed down from one generation to the next - coupled with their deep love of the land they farm. Although the 110 hectare farm is currently owned by a private landowner and leased to Driefontein, they're currently saving up to purchase the land outright. The Driefontein Small Farmers Co-op has used their Fair Trade premiums to fund retirement benefits, housing improvements, education, and more. In fact, in 2011 Driefontein was able to send their community's first student to college using funds from their trust.
Steeping Instructions
At Arbor Teas, we believe tea should be brewed to suit your personal taste. We're happy to make recommendations to get you started, but don't hesitate to experiment! When brewing your tea, your main considerations are tea quantity, water temperature, and steeping time. We recommend herbal and rooibos teas to be steeped for 5 to 7 minutes in water heated to a full rolling boil. For the best flavor, use fresh water whenever possible, and avoid overboiling. If you want a stronger brew, just use more tea. And don't forget to re-steep your tea leaves to get the most out of your leaf!
Looking for more info? Check out our How-To Guides and Eco-Brewing Tips!
Staff Perspectives
Sarah

"This Rooibos is so juicy! It is sweet like honey, with a warm cinnamon aftertaste. Very comforting!"

Jeremy

"Rooibos is just as versatile as tea for flavoring and blending, and can be a nice, caffeine-free change of pace."

Aubrey

"I like rooibos as a base for flavorings, because it has no astringency and leaves a sweet, slippery feeling on my palate."
Health Benefits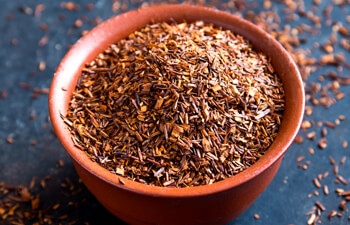 Rooibos (aka "red tea") boasts an array of beneficial health properties. Like true tea, rooibos has a high concentration of antioxidants, and is the only known source of aspalathin, a particularly potent antioxidant. Green rooibos tends to have even higher levels of antioxidants than red rooibos, but both have enough to measurably raise the levels of antioxidants in the blood. Rooibos is also rich in flavonoids; compounds likely to have anti-allergenic, anti-inflammatory, anticarcinogenic and antimicrobial benefits. Lastly, rooibos is low in tannins, making it less bitter than true tea.
For more information about the health benefits of Rooibos, and for direct sources of the above information, check out our Rooibos Health Benefits page!
Please note: the information above is for educational purposes only and has not been evaluated by the Food and Drug Administration. This information is not intended to diagnose, treat, cure, or prevent any disease.