Organic Chaga Chicory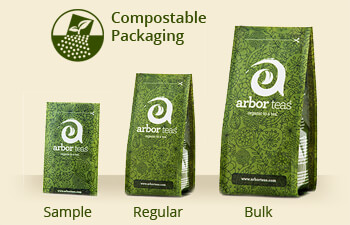 Famous in New Orleans, roasted chicory root is often blended with coffee to create the ubiquitous Louisiana beverage. However, instead of combining it with coffee, we've decided to blend organic chicory root with organic chaga to create a caffeine-free herbal tea that is a great alternative to coffee and offers all the health properties of the chicory root and Arctic chaga mushroom. Not only does this blend look like ground coffee, it brews up a thick, rich cup that has the same dark brown liquor and a similar flavor. Excellent with milk and a touch of honey, this organic herbal tea can be prepared in a standard coffee maker, french press, or as a loose leaf tea. It also makes a great iced beverage!
The chaga-chicory combination not only tastes great, but creates a healthful 1-2 punch! Chicory is quickly gaining attention for its prebiotic health benefits. Prebiotics are a helpful companion to the more well-known probiotic. Chaga is an Arctic mushroom that has been used in folk medicine to alleviate gastrointestinal ailments and to boost immunity. It is also known as an adaptogen which is believed to help lower stress levels. The organic chaga used in our blend is sourced from the Finnish lapland forests where chaga has been wild-harvested for centuries to make "mushroom tea."
Ingredients: organic roasted chicory root, organic chaga mushroom extract
What are Blended Teas?
Our delicious blended teas use the same top-quality organic teas and/or botanicals offered in our single origin varieties, but are comprised of teas, herbs, fruit, and/or flowers of multiple origins and/or varieties. When blending our teas, our goal is to create a cup with a specific flavor profile in mind. Unlike single origin teas, which can vary from harvest to harvest (just like wine!), blended teas trade seasonal variation for year-to-year consistency. As a result, the formula and/or appearance of our blends may change over time, but you can rest assured that you'll always receive an organic cup of tea with consistent flavor.
Steeping Instructions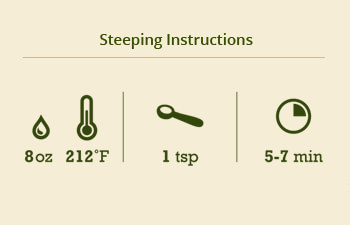 At Arbor Teas, we believe tea should be brewed to suit your personal taste. We're happy to make recommendations to get you started, but don't hesitate to experiment! When brewing your tea, your main considerations are tea quantity, water temperature, and steeping time. We recommend herbal and rooibos teas to be steeped for 5 to 7 minutes in water heated to a full rolling boil. For the best flavor, use fresh water whenever possible, and avoid overboiling. If you want a stronger brew, just use more tea. And don't forget to re-steep your tea leaves to get the most out of your leaf!
Looking for more info? Check out our How-To Guides and Eco-Brewing Tips!
Staff Perspectives
Marina

"This is my comfort tea of choice. I anticipate brewing this tea when I'm on my way home on a cold day. On a hot day I like to dress it up with a touch of honey & milk. On ice, a graham cracker flavor in the tea is enhanced!"

Sarah

"Sometimes you want the taste of coffee, but not the crazy rush and energy dive. This fits the bill! Smooth and tasty!"

Aubrey

"Chaga increases the body of this brew and adds a nice earthiness that compliments the more prominent chicory root. I call it Chaga-licious! :)"
Health Benefits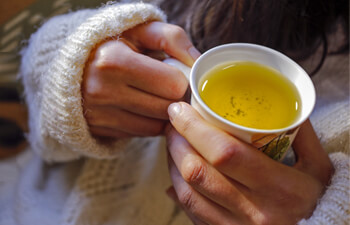 Chicory Root
Probiotics have received a lot of media attention and scientific inquiry about their benefits to the digestive system. But less attention is given to prebiotics. Chicory has some of the highest levels of prebiotics, which can also be extremely beneficial. Chicory gets its high prebiotic makeup from a soluble dietary fiber called inulin (not to be confused with insulin), which is also found in jicama and Jerusalem artichokes. Prebiotics can promote the growth of beneficial microorganisms in our gut, which act as food for probiotics. This means that prebiotics and probiotics work together, and prebiotics can make probiotics more effective!
Chaga Mushroom
Chaga is a fungi (Inonotus obliquus) that is most often found growing on Birch trees in the wild. It has been used in folk medicine as a medicinal mushroom for centuries in Northern Europe, Russia, China, and Japan to alleviate gastrointestinal ailments and boost immunity. It is also known as an adaptogen which naturopaths believe can help lower stress levels. Chaga contains antioxidants and is considered an immune system modulator. The potential therapeutic effects of Chaga in anticancer activity and suppression of autoimmune diseases has been associated with its polyphenol content and immunomodulating polysaccharides and betulinic acid.
For more information about the health benefits of Chaga Chicory and other types of herbs, and sources for the above information, check out our Herbal Tea Health Benefits page!
Please note: the information above is for educational purposes only and has not been evaluated by the Food and Drug Administration. This information is not intended to diagnose, treat, cure, or prevent any disease.