Organic Peach Rooibos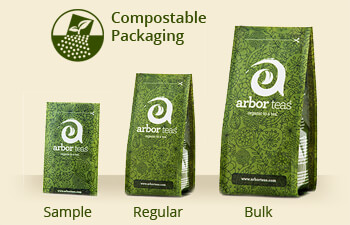 This Fair Trade Certified organic loose leaf infusion combines rooibos leaves (pronounced ROY-bus) with the essential oils of a peach, adding a subtle peach flavor atop the already apricot-like rooibos. Rooibos is an herb native to the beautiful Cederberg region of South Africa and contains no caffeine.
Ingredients: organic and Fair Trade Certified South African rooibos and organic peach flavor
What are Flavored Teas?
Our delicious flavored teas use the same top-quality organic tea that we offer in our unflavored varieties, but are blended with pieces of real fruit, spices, flowers, and 100% natural flavors. When blending our teas, our goal is to create a cup that balances the taste of the tea with the flavors of the additional ingredients so that neither one overpowers. All of the natural flavors we use are either extracts taken directly from the botanical ingredient, or extracted using 100% GMO-free grain alcohol as a solvent. You can rest assured that none of the flavors used in our blends are synthetically or artificially derived, and do not use artificial preservatives.
Steeping Instructions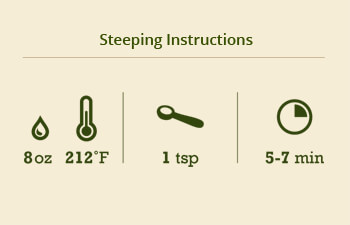 At Arbor Teas, we believe tea should be brewed to suit your personal taste. We're happy to make recommendations to get you started, but don't hesitate to experiment! When brewing your tea, your main considerations are tea quantity, water temperature, and steeping time. We recommend herbal and rooibos teas to be steeped for 5 to 7 minutes in water heated to a full rolling boil. For the best flavor, use fresh water whenever possible, and avoid overboiling. If you want a stronger brew, just use more tea. And don't forget to re-steep your tea leaves to get the most out of your leaf!
Looking for more info? Check out our How-To Guides and Eco-Brewing Tips!
Staff Perspectives
Chelsea

"Iced peach rooibos with honey in the summer is the ultimate treat! I love the silky feeling of rooibos when iced."

Jeremy

"There's a definite synergy between the peach flavor and inherent apricot qualities of the rooibos that I really enjoy!"

Aubrey

"This Peach Rooibos makes a GREAT iced tea. After I add a little honey to the brew, it is a surefire favorite with my kids on a hot day."
Health Benefits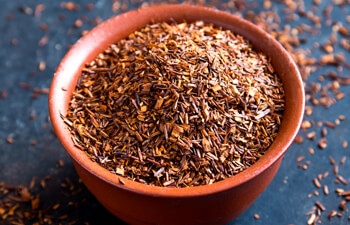 Rooibos (aka "red tea") boasts an array of beneficial health properties. Like true tea, rooibos has a high concentration of antioxidants, and is the only known source of aspalathin, a particularly potent antioxidant. Green rooibos tends to have even higher levels of antioxidants than red rooibos, but both have enough to measurably raise the levels of antioxidants in the blood. Rooibos is also rich in flavonoids; compounds likely to have anti-allergenic, anti-inflammatory, anticarcinogenic and antimicrobial benefits. Lastly, rooibos is low in tannins, making it less bitter than true tea.
For more information about the health benefits of Rooibos, and for direct sources of the above information, check out our Rooibos Health Benefits page!
Please note: the information above is for educational purposes only and has not been evaluated by the Food and Drug Administration. This information is not intended to diagnose, treat, cure, or prevent any disease.