Organic Butterfly Pea Lemongrass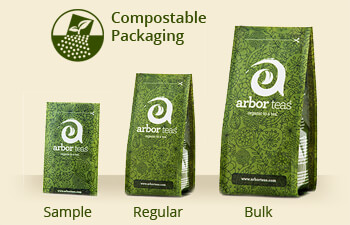 Native to Southeast Asia, butterfly pea flower is a vision of blue both inside and outside the cup! The blue flower produces a dazzling lapis lazuli liquor that always proves a conversation starter. While striking in its appearance, butterfly pea flower is subtle in flavor. As a result, we've blended it with organic Thai lemongrass to create a delightful, light-bodied loose leaf organic herbal tea. The delicate herbaceous notes of the butterfly pea flower complement the soft, lemon rind flavor of the Thai lemongrass. Naturally caffeine free, both herbs are grown on the Araksa Tea Garden, a small organic tea farm in Chiang Mai province of Northern Thailand.
Butterfly pea flower is also known for its color-changing properties. By altering its pH the liquor will turn from blue to vibrant purple. Simply add a squeeze of lemon or lime! This blue and purple tea is perfectly suited for unique cocktail creations. In Southeast Asia it is traditionally used in cooking as a natural dye in rice dishes, such as kuih ketan and nasi kerabu.
Ingredients: organic lemongrass and organic butterfly pea flower
Origin: Araksa Tea Garden, Baan Chang, Chiang Mai, Thailand
Araksa Tea Garden is located within the lush jungles of the Chiang Mai province in Northern Thailand just south of Chiang Dao Wildlife Sanctuary. The soil is lush and fertile and the garden is surrounded by several buffers that create natural air and ground filtration. These buffers include banana and bamboo trees, and plants such as lemongrass which are used as natural pest control. The garden advocates against slash and burn techniques, instead encouraging long-term growth and more sustainable cash crops like lychee and longan trees.
Founded in 2014 with sustainability at the core of its vision, this young organic tea and herb garden is an example of a new wave of small artisanal tea farms which not only produce excellent tea, but simultaneously seek to revive neglected farms. Additionally, Araksa Tea Garden supports the local community through its Himmapaan Foundation which helps to repair land damaged by tourism and provides access to education by sponsoring teachers in remote mountainous schools.
Steeping Instructions
At Arbor Teas, we believe tea should be brewed to suit your personal taste. We're happy to make recommendations to get you started, but don't hesitate to experiment! When brewing your tea, your main considerations are tea quantity, water temperature, and steeping time. We recommend herbal and rooibos teas to be steeped for 5 to 7 minutes in water heated to a full rolling boil. For the best flavor, use fresh water whenever possible, and avoid overboiling. If you want a stronger brew, just use more tea. And don't forget to re-steep your tea leaves to get the most out of your leaf!
Looking for more info? Check out our How-To Guides and Eco-Brewing Tips!
Staff Perspectives
Lea

"The deep indigo color of the liquor is amazing! It reminds me of my mom's batik dyes when I was a child."

Chelsea

"The taste is bright and lemony, and it looks gorgeous in mixed drinks!"
Health Benefits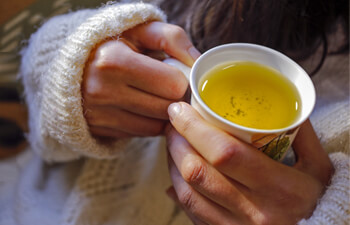 Butterfly pea flower (Clitoria ternatea) has been used in Ayurvedic medicine for centuries, most commonly as a memory enhancer, nootropic, antistress, and antidepressant. Organic compounds such as flavonol glycosides and anthocyanins are also present in the flower. When used as an extract, it has the potential to be an anti-inflammatory, antimicrobial, analgesic, and diuretic.
Lemongrass is widely used throughout Southeastern Asia and Africa in traditional and alternative medicine. It is also popular in the practice of aromatherapy. Recent scientific studies have provided evidence supporting its antimicrobial, antioxidant, antifungal, and anti-inflammatory properties in several disease models. One study suggests that lemongrass is a potentially valuable antifungal and anti-inflammatory agent for the prevention and treatment of acute inflammatory skin conditions. The same study also suggests that it could potentially be used as an air decontaminant in hospitals.
For more information about the health benefits of Lemongrass, Butterfly Pea Flower and other types of herbs, and for direct sources of the above information, check out our Health Benefits of Herbal Tea page!
Please note: the information above is for educational purposes only and has not been evaluated by the Food and Drug Administration. This information is not intended to diagnose, treat, cure, or prevent any disease.
Butterfly Pea Lemongrass Recipes