Organic Decaf Iced Black Tea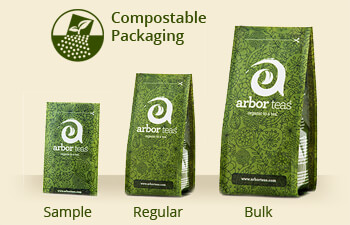 In some parts of the United States, iced tea is only served in the summer months. However, for a large group of us iced tea is enjoyed year round (regardless of the weather). And for those who want to reduce their caffeine intake, our Organic and Fair Trade Certified Decaf Iced Tea is the answer!
This hearty north Indian organic decaf tea can easily act as a self-drinker (without milk or sugar) or can be used to make the ubiquitous sweet tea of the South. Its smaller cut leaf allows for a full, quick infusion that mimics many of the popular (non-organic) brands used to make iced tea. However, like ALL of our teas and herbal infusions this tea is organic certified! Because this organic loose leaf tea is decaffeinated using a state-of-the art carbon dioxide (CO2) decaffeination process, the rich and earthy flavor of the organic black tea comes through nicely. Also, CO2 decaffeination does not involve the use of harmful chemicals, so the resulting product is simply a healthy cup of organic decaf tea with most of the caffeine removed (and no chemical overtones)!
Ingredients: organic and Fair Trade Certified Indian decaf black tea
What are Decaffeinated Teas?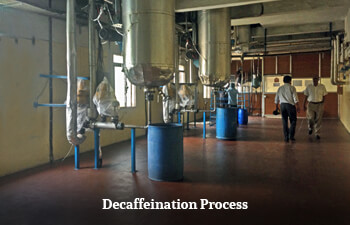 All true teas contain caffeine. Decaffeinated teas are leaves from the plant Camellia sinensis that have had at least 97.5% of the caffeine removed. The term "decaffeinated" is different from "caffeine free." Decaffeinated refers to a product that originally contained caffeine (like Camellia sinensis) and underwent a process to remove most of its caffeine content. Caffeine-free, on the other hand, refers to a product (like many of our herbal teas) that never contained caffeine to begin with. For our decaf teas, we exclusively use the carbon dioxide (CO2) method of decaffeination. We believe this is the safest form of decaffeination, and retains the greatest flavor and health benefits.

Read our field notes about our visit to a decaffeination plant!
Steeping Instructions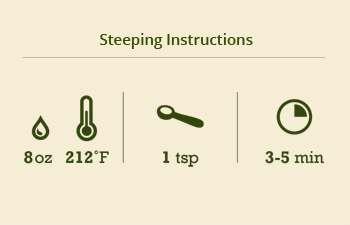 At Arbor Teas, we believe tea should be brewed to suit your personal taste. We're happy to make recommendations to get you started, but don't hesitate to experiment! When brewing your tea, your main considerations are tea quantity, water temperature, and steeping time. We recommend black teas to be steeped for 3 to 5 minutes in water heated to a full, rolling boil. For the best flavor, use fresh water whenever possible, and avoid overboiling. Try not to steep your tea longer than necessary, as you'll extract undesirable bitterness from the leaves. If you want a stronger brew, don't steep longer, just use more tea. And don't forget to re-steep your tea leaves to get the most out of your leaf!
Looking for more info? Check out our How-To Guides and Eco-Brewing Tips!
Staff Perspectives
Jeremy

"Partly because of its smaller leaf, this tea brews up stronger than our Organic Decaf English Breakfast Black Tea. So, if you are looking for a heartier version of the Decaf. English Breakfast, give this a try."
Health Benefits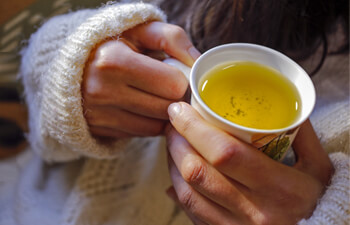 Like all true tea, black tea offers many potential health benefits. Research has found that tea (Camellia sinensis) can have many positive effects on human health, including improved cardiovascular function, cancer risk reduction, improved immune function, improved oral health, and help with weight management. Tea is also full of polyphenols, which are a class of antioxidant that help your body maintain homeostasis and balance your stress levels. Black tea specifically has been found to regulate blood sugar in diabetics better than other types of tea, according to a study done by the University of Massachusetts Amherst.
For more information about the health benefits of black tea and other types of tea, and for direct sources of the above information, check out our Tea Health Benefits page!
Please note: the information above is for educational purposes only and has not been evaluated by the Food and Drug Administration. This information is not intended to diagnose, treat, cure, or prevent any disease.
Iced Tea
According to the USDA, Americans consume more than 2.2 billion gallons of tea per year, about 80 percent (around 1.75 billion gallons) of which is iced. That's an average of nearly 6.5 gallons of iced tea per person! Iced "sweet tea" has been consumed in the south for 100 years or more, but with the rise of fast food restaurants (nearly all of which sell iced tea), America has watched its tea consumption double in the past 30 years.
Iced tea was most likely introduced to America during the 1904 St. Louis World Fair by tea merchant Richard Blechynden. The fair was held on a sweltering day in the summer, and Blechynden was having a difficult time promoting hot Indian black tea to the attendees. So, the enterprising merchant and his staff developed an apparatus in which brewed Indian tea would flow through iced lead pipes, creating a chilled beverage and a successful day for Blechynden!
For even more information about this and other traditions, visit our Tea Traditions page!