Organic High Mountain Oolong Tea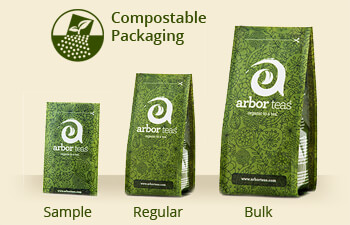 This exquisite, high grade organic oolong is a pure delight! Its larger, olive green balled leaves are oxidized a mere 20% and when infused emit a stunning honeysuckle fragrance that is sweet, floral, buttery and, above all, luxurious. In fact, it is hard to pull oneself away from the fragrance to taste the infusion. Its pale yellow infusion is light, delicate and silky smooth. While the fragrance takes center stage in the first infusion, the liquor and flavor become more prominent in subsequent infusions. Grown and manufactured in Lam Dong, Vietnam (3,200 feet above sea level) with the QingXin cultivar, this oolong is a rare example of an exceptional organic certified High Mountain Oolong.
Like other fine organic loose leaf oolong tea, our High Mountian Oolong may be infused a number of times, with each infusion revealing a new nuance of this tea's complex flavor.
Ingredients: organic Vietnamese oolong tea
Origin: Lam Dong Province, Vietnam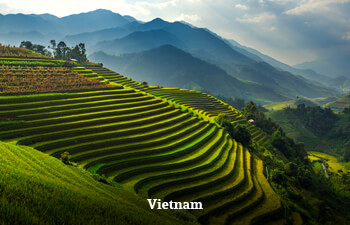 Lying in the southern part of the Central Highlands of Vietnam, Lam Dong is similar to India with a tropical monsoon climate that varies with the height of the terrain. There are two main seasons: the rainy season from May to November, and the dry season from December to April. The basaltic soil promotes an active tea farming community that has the highest organic tea income per hectare in the country. Although still relatively small compared to other parts of the world, Lam Dong is a growing tea origin for organic production.
Steeping Instructions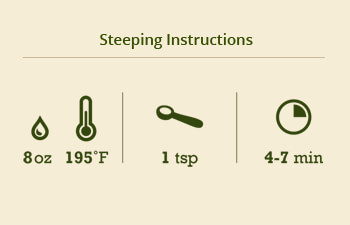 At Arbor Teas, we believe tea should be brewed to suit your personal taste. We're happy to make recommendations to get you started, but don't hesitate to experiment! When brewing your tea, your main considerations are tea quantity, water temperature, and steeping time. We recommend oolong teas to be steeped for 4 to 7 minutes in water heated to a just about boiling (approximately 195 degrees F). For the best flavor, use fresh water whenever possible. Try not to steep your tea longer than necessary, as you'll extract undesirable bitterness from the leaves. If you want a stronger brew, don't steep longer, just use more tea. And don't forget to re-steep your tea leaves to get the most out of your leaf!
Looking for more info? Check out our How-To Guides and Eco-Brewing Tips!
Staff Perspectives
Lea

"Definitely one of my favorite teas! Always a special treat. Incredibly floral, buttery, and silky. Wonderful on a second infusion too."

Trish

"The minute Arbor Teas started carrying this tea, I fell in love! One scoop of these leaves lasts me all day. They unfold so beautifully and open more each steep. My taste buds are alive and brightened with the savory floral, yet light flavors. Yum!"

Aubrey

"This tea is so smooth that its liquor is almost hard to detect when sipped. Dare I say it is ephemeral?"
Health Benefits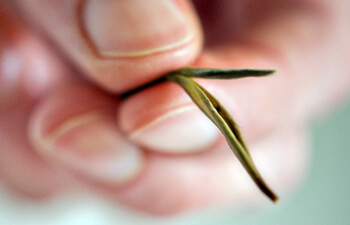 Like all true tea, oolong tea offers many potential health benefits. Research has found that tea (Camellia sinensis) can have many positive effects on human health, including improved cardiovascular function, cancer risk reduction, improved immune function, improved oral health, and help with weight management. Tea is also full of polyphenols, which are a class of antioxidant that help your body maintain homeostasis and balance your stress levels.
For more information about the health benefits of oolong and other types of tea, and for direct sources of the above information, check out our Tea Health Benefits Page!
Please note: the information above is for educational purposes only and has not been evaluated by the Food and Drug Administration. This information is not intended to diagnose, treat, cure, or prevent any disease.
Chinese Gong Fu Method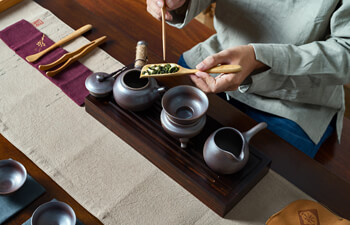 In China, tea is often brewed using the meditative Gong Fu method. This formal, ritualized approach to tea preparation dates back to the Ming dynasty (1368-1644 AD). The term "Gong Fu" refers to skill gained through practice - expertise derived not from learning but experience. While the term "Gong Fu" could signify the serious practice of any art form, such as the martial art of related name (Kung Fu), Gong Fu Cha refers to the elaborate preparation of tea using miniature Yixing pots, cups and tea pets (small clay figurines). Yixing teaware is named for the purple clay it is made from, which hails from Yixing in China's Jiangsu province. Everything in Gong Fu service is small and delicate, placing emphasis on the elegance of the tea. Balled oolongs are the preferred tea in the Gong Fu ritual; they are steeped multiple times to highlight the evolution of taste as the leaves unfurl.
For even more information about this and other traditions, visit our Tea Traditions Page!