Organic Japan Oolong Tea
Our rare and limited Organic Japan Oolong Tea is another exceptional Japanese tea from the Osada Seicha garden, in Shizuoka, Japan. This family owned organic tea garden is deeply committed to "making tea friendly to people and the earth." Produced from an early spring plucking, this oolong perfectly highlights the floral characteristics associated with its Zairi cultivar. When steeped, the twisted olive green leaves release a floral and sweet aroma of early lilac flower buds and warm butter. The clear light green brew of this minimally oxidized oolong delivers a savory smooth-bodied cup with notes of sugar snap peas, Anjou pear and a coppery minerality. The round and layered taste lingers in the mouth, offering that distinctive "oolong glow."
Ingredients: organic Japanese oolong tea
Origin: Osada Seicha, Shizuoka Prefecture, Japan
Located in central Japan, Shizuoka is known as the capital of Japanese green tea production. Though it is not the oldest producer of tea, it is the largest; this prefecture alone accounts for 40 percent of all green tea production in Japan. Mori Machi is located in an area of Shizuoka that is referred to as "organic tea's home." Osada Seicha, the manufacturer and tea garden, has been both growing and manufacturing tea since 1947 and has received numerous international and national awards including a Frontier Prize at the 2010 World Green Tea Contest for their Japan Pu-Erh Tea. For those concerned with the implications of the Fukushima-Daiichi disaster, we continue to have our organic teas from Japan independently tested for radiation.
Steeping Instructions
At Arbor Teas, we believe tea should be brewed to suit your personal taste. We're happy to make recommendations to get you started, but don't hesitate to experiment! When brewing your tea, your main considerations are tea quantity, water temperature, and steeping time. We recommend oolong teas to be steeped for 4 to 7 minutes in water heated to a just about boiling (approximately 195 degrees F). For the best flavor, use fresh water whenever possible. Try not to steep your tea longer than necessary, as you'll extract undesirable bitterness from the leaves. If you want a stronger brew, don't steep longer, just use more tea. And don't forget to re-steep your tea leaves to get the most out of your leaf!
Looking for more info? Check out our How-To Guides and Eco-Brewing Tips!
Staff Perspectives
Sarah

"My favorite oolong is Ti Kuan Yin, but this tea may oust that beautiful goddess from her throne! Delightfully smooth with a little floral touch that pairs with a coppery finish - makes every full cup an empty one."

Lea

"The aroma of this lovely oolong takes me back to the early springtimes of my childhood, and the first buds on our backyard lilac bushes. Notes of buttery greens linger on my palate after sipping, creating a gentle extension of my mid-morning tea break."
Health Benefits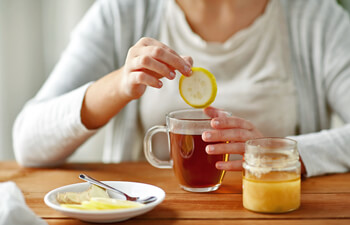 Like all true tea, oolong tea offers many potential health benefits. Research has found that tea (Camellia sinensis) can have many positive effects on human health, including improved cardiovascular function, cancer risk reduction, improved immune function, improved oral health, and help with weight management. Tea is also full of polyphenols, which are a class of antioxidant that help your body maintain homeostasis and balance your stress levels.
For more information about the health benefits of oolong and other types of tea, and for direct sources of the above information, check out our Tea Health Benefits Health Benefits of True Tea page!
Please note: the information above is for educational purposes only and has not been evaluated by the Food and Drug Administration. This information is not intended to diagnose, treat, cure, or prevent any disease.