Arbor Teas Launches Next Generation Compostable Packaging
Posted by Arbor Teas on 21st Apr 2010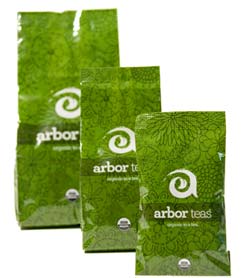 Beginning on Earth Day 2010, Arbor Teas became the first tea company to deliver its full line of organic loose teas in 100% backyard compostable packaging! With the release of this next generation packaging, we at Arbor Teas advanced our environmental mission, continuing to lead the tea industry through our staunch commitment to sustainable business practices. For the first time ever, tea drinkers are now able to compost their tea leaves AND tea packaging together in their home composting system!

ABOUT OUR BACKYARD COMPOSTABLE TEA PACKAGING
Our exciting new packaging is composed of a cellulose film made from wood pulp sourced from sustainably-managed trees. Most compostable packaging available in today's marketplace is only truly compostable in industrial settings optimized for rapid breakdown. By contrast, the films used for Arbor Teas' new packaging can actually breakdown in a backyard compost setting.

Because of greater variation in moisture and temperature, backyard composting environments have historically been incapable of breaking down so-called "compostable" packaging materials (e.g. corn plastic cups and take-out containers and the like). However, the material chosen for Arbor Teas' new packages requires a less optimized environment for biodegradation, representing a major advancement in low-impact packaging.

The film is certified to both the European (EN13432) and American (ASTM D6400) standards for compostable packaging, and has been submitted to an additional independent test protocol (Miti Test ISO14851) confirming its biodegradation at ambient temperatures and in aqueous environments, relevant for home composting in bins or compost heaps.

MORE TEA, LESS PACKAGING!
Not only are our new packages compostable, they're also lighter than their predecessors. In all, our latest shift in packaging materials reduced the weight of Arbor Teas' packaging by over 60%! This translates to a meaningful reduction in the carbon footprint of Arbor Teas operations. And, in response to customer requests, the new packaging accommodates more tea than ever before. On average, Arbor Teas packages contain 27% more tea than they did previously. The result: MORE TEA, LESS PACKAGING! Individually, these may seem like small improvements. But taken together, they add up to the greenest option for tea lovers anywhere!