Baking Up a Little Tea with Maria Siriano of Sift and Whisk
Posted by Jeremy @ Arbor Teas on 8th May 2016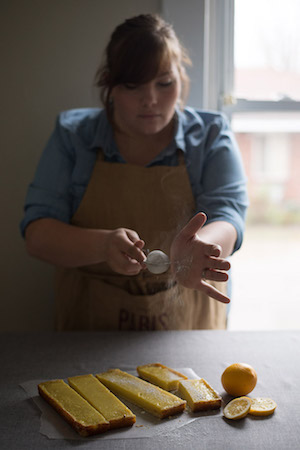 We first discovered Maria Siriano when we scoured the internet for interesting recipes for our Cooking with Tea Holiday Menus ahead of Thanksgiving last year. We've returned to her blog, Sift and Wisk, a lot since, looking for inspiration and something yummy to eat.
Luckily, Sift & Wisk serves up both in spades.
This could be because Siriano spends a lot of time thinking about food. Whether she's reading other food blogs, checking out the local food scene in Columbus, Ohio, or experimenting in her kitchen.
"I feel like I'm always chasing my last 'favorite' meal," she says.
And, as a tea lover, she often incorporates tea into her recipes, because, she says, "it opens up a whole new world of flavor opportunities! Even though every tea is unique, I find that all of them lend an earthiness that really grounds the other flavors in a recipe."
For example, "I'm obsessed with bergamot oil," she says, which plays particularly well in lovely this Earl Grey Cake with Chocolate Lavender Frosting. "I didn't think that combination of flavors would work initially," Siriano says, "but it turned out to be an amazing cake."
Her other favorite teas to cook with are Lapsang Souchong, and, lately, Darjeeling.
Lately, though, another obsession has taken hold: veganizing everything, from lemon tarts to chocolate chip cookies.
"I've always been intrigued by veganism for its compassion to animals, environmental sustainability, and health benefits, but I thought I could never do it because I'm a baker, which traditionally means a heavy dependence on eggs and dairy," Siriano says. "I'm still working out a few kinks, but I've found that vegan baking isn't really more difficult than traditional baking, plus it helps me to think outside the box!
"I'm excited about the vegan recipes I have coming down the pike, two of which use tea!"
We can't wait to taste them.