Organic Chamomile Mint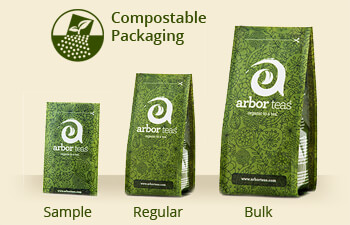 This caffeine-free blend of organic Egyptian chamomile and organic USA peppermint offers a soothing, uplifting treat! The peppermint is very prominent, but the chamomile is still present, making this a lovely loose leaf organic herbal tea. It is slightly sweet, with a delightful lingering finish.
Ingredients: organic Egyptian chamomile and organic USA peppermint
What are Blended Teas?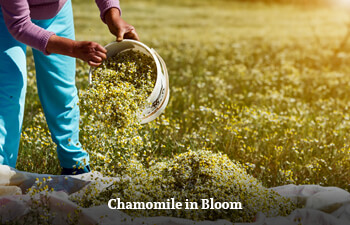 Our delicious blended teas use the same top-quality organic teas and/or botanicals offered in our single origin varieties, but are comprised of teas, herbs, fruit, and/or flowers of multiple origins and/or varieties. When blending our teas, our goal is to create a cup with a specific flavor profile in mind. Unlike single origin teas, which can vary from harvest to harvest (just like wine!), blended teas trade seasonal variation for year-to-year consistency. As a result, the formula and/or appearance of our blends may change over time, but you can rest assured that you'll always receive an organic cup of tea with consistent flavor.
Steeping Instructions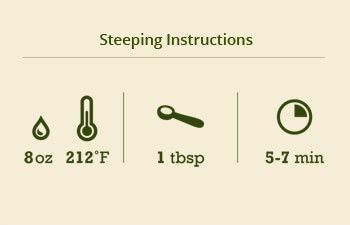 At Arbor Teas, we believe tea should be brewed to suit your personal taste. We're happy to make recommendations to get you started, but don't hesitate to experiment! When brewing your tea, your main considerations are tea quantity, water temperature, and steeping time. We recommend herbal and rooibos teas to be steeped for 5 to 7 minutes in water heated to a full rolling boil. For the best flavor, use fresh water whenever possible, and avoid overboiling. If you want a stronger brew, just use more tea. And don't forget to re-steep your tea leaves to get the most out of your leaf!
Looking for more info? Check out our How-To Guides and Eco-Brewing Tips!
Staff Perspectives
Chelsea

"This is my go-to when I have an upset stomach. The peppermint calms my stomach and the chamomile is a great anti-inflammatory for me."

Lea

"One of my daughter's favorites! We often share a small pot before bedtime. A perfect blend that is not too minty. She enjoys her cup with a spoonful of honey."

Marina

" I cuddle into bed every night with a book and Chamomile mint steeping beside me. The soothing peppermint aroma sometimes puts me to sleep before I get a chance to drink my cup!"
Health Benefits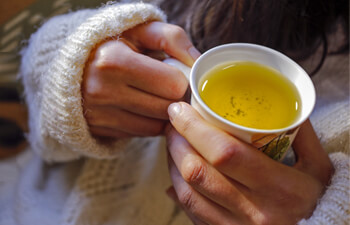 Chamomile may be best known for its relaxing qualities, a calming herb that many drink before bed. It's also loved for its ability to calm the stomach, particularly because chamomile oil contains anodyne compounds, which are antispasmodic and help reduce constipation, cramping and other stomach pains. Applied topically, chamomile can have an anti-inflammatory effect on the skin. Studies have also linked it with anticancer properties, specifically tested on the skin, prostate, breast and ovarian cancer types. In addition, it may be beneficial as a sleep aid, and is helpful with hemorrhoids, gastrointestinal distress, and colic conditions according to a study done at the Department of Urology and Nutrition in Cleveland, Ohio.
For more information about health benefits of Chamomile and other types of herbs, and for direct sources of the above information, check out our Herbal Tea Health Benefits page!
Please note: the information above is for educational purposes only and has not been evaluated by the Food and Drug Administration. This information is not intended to diagnose, treat, cure, or prevent any disease.