Organic Dragonwell Lung Ching SPECIAL Grade Green Tea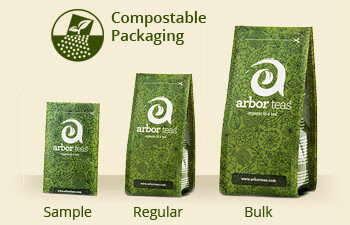 As the highest grade Lung Ching (or Long Jing) that we have the privilege to offer, this organic green tea is truly exceptional and represents the pinnacle of this style of Chinese green tea. Its celadon colored leaves are pressed incredibly thin into the distinct spear-like shape of the Lung Ching tea. Grown and produced in the West Lake District, this organic tea brews a yellow green liquor that tastes of buttered mustard greens and lima beans with a nutty finish. The infusion is smooth and light with a dry finish that hangs on the top of the mouth and front of the tongue.
We have very limited stock of this rare tea – so enjoy it while you can!
Ingredients: organic Chinese green tea
Steeping Instructions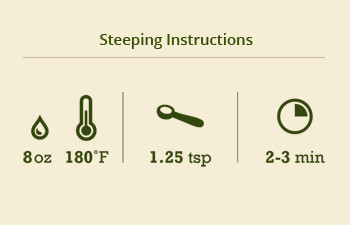 At Arbor Teas, we believe tea should be brewed to suit your personal taste. We're happy to make recommendations to get you started, but don't hesitate to experiment! When brewing your tea, your main considerations are tea quantity, water temperature, and steeping time. We recommend green and white teas to be steeped for 2 to 3 minutes in water heated to not-quite-boiling, just as bubbles begin to form on the bottom of the pan (approximately 170 to 180 degrees F). For the best flavor, use fresh water whenever possible. Try not to steep your tea longer than necessary, as you'll extract undesirable bitterness from the leaves. If you want a stronger brew, don't steep longer, just use more tea. And don't forget to re-steep your tea leaves to get the most out of your leaf!
Looking for more info? Check out our How-To Guides and Eco-Brewing Tips!
Staff Perspectives
Aubrey

"Holy Arugula! The crisp, spicy green brew of this tea is stunning."
Reviews
We always want to hear from you! Post your own review and earn 10 rewards points.
Health Benefits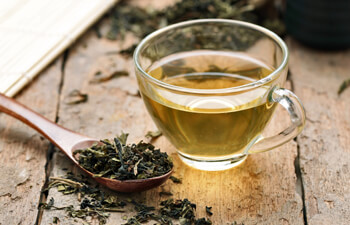 Like all true tea, green tea offers many potential health benefits. Research has found that tea (Camellia sinensis) can have many positive effects on human health, including improved cardiovascular function, cancer risk reduction, improved immune function, improved oral health, and help with weight management. Tea is also full of polyphenols, which are a class of antioxidant that help your body maintain homeostasis and balance your stress levels.
Green tea specifically is known for its array of health benefits, which have been supported by a growing number of studies. Green tea research has demonstrated that it may be an effective anticancer agent for breast cancer, lung cancer, kidney cancer and prostate cancer, among others. Studies have shown a link between green tea and weight loss, and the ability to modulate energy metabolism, aid in body fat regulation, and possibly promote preferential loss in abdominal fat. Research has also shown that green tea may increase performance for short term memory tasks, as well as being increasing potency of antibiotics. Other peer-reviewed studies link green tea to healthy skin, help with lowering cholesterol, and regulating diabetes. It's important to keep in mind that many of these studies monitor subjects who drink several cups of green tea per day.
For more information about the health benefits of green tea, and for direct sources of the above information, check out our Tea Health Benefits page!
Lung Ching Lore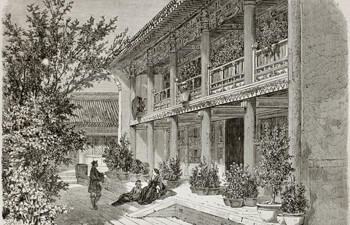 There is an incredible amount of Chinese lore surrounding Dragonwell (lung ching or long jing in Chinese), with each tale more mystifying than the last. One tale tells of an old woman who had a house near a crossroads, and as passersby came and went she gave them tea. She had no more than an old mortar and two tea trees. One winter, an old man came to her and gave her money. In this story, it is implied that the old man was a wandering spirit who enjoyed the tea and the service the old lady provided. Noticing that she was in trouble, he tested her dedication to tea. After seeing that she was faithful to her brewing method, and that she cared well for the mortar and tea trees, the spirit left her enough money to make it through the difficult winter, and blessed her with the ability to grow tea trees.
Dragonwell Tea is considered the tea of royalty and has a specific manufacturing process that was perfected on Lion Peak Mountain (a mountain in the western part of Zhejiang province). Its manufacturing technique has been emulated by numerous other areas in China, but the most authentic Dragonwell teas comes from the West Lake District. One of the many differentiating steps during its manufacture is the hand-roasting in a wok. There are two temperature ranges necessary for proper roasting: a lower temperature range (140-160 degrees F) to burn off the tiny white hairs that naturally cover the leaves and remove most of the water; and a higher temperature range (175-212 degrees F) for 12-15 minutes to broaden and flatten out the leaves. Tea craftsmen and women may spend up to 3 years learning their craft and earning their title.
For even more information about this and other traditions, visit our Tea Traditions page!