Organic Russian Caravan Black Tea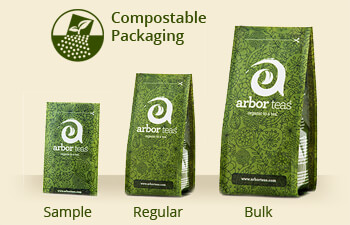 This Fair Trade Certified organic loose tea blend combines two of our organic Chinese teas: Keemun and Lapsang Souchong to produce a blend with a rich, smoky aroma. Its medium-bodied cup has a generous smokiness, but does not mask the organic black tea flavor. Aptly named "Russian Caravan," this blend is reminiscent of the long tea caravans that traversed Asia centuries ago, scenting their cargo by their nightly campfires.
Ingredients: organic Chinese black tea
What are Blended Teas?
Our delicious blended teas use the same top-quality organic teas and/or botanicals offered in our single origin varieties, but are comprised of teas, herbs, fruit, and/or flowers of multiple origins and/or varieties. When blending our teas, our goal is to create a cup with a specific flavor profile in mind. Unlike single origin teas, which can vary from harvest to harvest (just like wine!), blended teas trade seasonal variation for year-to-year consistency. As a result, the formula and/or appearance of our blends may change over time, but you can rest assured that you'll always receive an organic cup of tea with consistent flavor.
Steeping Instructions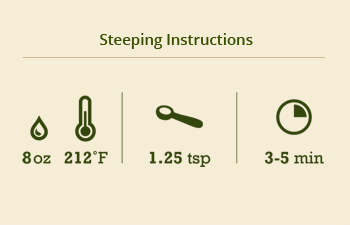 At Arbor Teas, we believe tea should be brewed to suit your personal taste. We're happy to make recommendations to get you started, but don't hesitate to experiment! When brewing your tea, your main considerations are tea quantity, water temperature, and steeping time. We recommend black teas to be steeped for 3 to 5 minutes in water heated to a full, rolling boil. For the best flavor, use fresh water whenever possible, and avoid overboiling. Try not to steep your tea longer than necessary, as you'll extract undesirable bitterness from the leaves. If you want a stronger brew, don't steep longer, just use more tea. And don't forget to re-steep your tea leaves to get the most out of your leaf!
Looking for more info? Check out our How-To Guides and Eco-Brewing Tips!
Staff Perspectives
Chelsea

"This is a great step down from the full smoky flavor of Lapsang Souchong, if you're looking for something less intense."

Jeremy

"Excellent with a touch of lemon!"

Aubrey

"This blend is always a hit at tea tastings, both for its historical significance and distinctive flavor."
Reviews
We always want to hear from you! Post your own review and earn 10 rewards points.
Health Benefits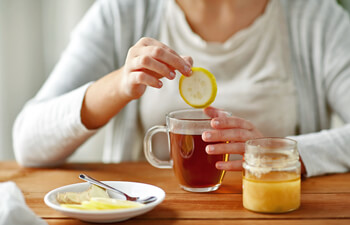 Like all true tea, black tea offers many potential health benefits. Research has found that tea (Camellia sinensis) can have many positive effects on human health, including improved cardiovascular function, cancer risk reduction, improved immune function, improved oral health, and help with weight management. Tea is also full of polyphenols, which are a class of antioxidant that help your body maintain homeostasis and balance your stress levels. Black tea specifically has been found to regulate blood sugar in diabetics better than other types of tea, according to a study done by the University of Massachusetts Amherst.
For more information about the health benefits of black tea and other types of tea, and for direct sources of the above information, check out our Tea Health Benefits page!
Please note: the information above is for educational purposes only and has not been evaluated by the Food and Drug Administration. This information is not intended to diagnose, treat, cure, or prevent any disease.
Russian Samovar Tea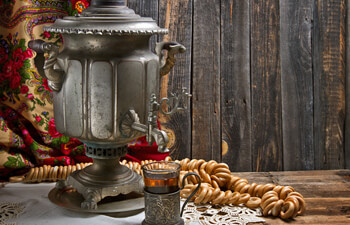 Given the significant influence Asian culture has had on Russia through the years, it is no wonder that Russians are big tea drinkers. The samovar, which is somewhat of a cross between a hot water heater and teapot, is one of many examples of this influence - it is presumed to have evolved from the Tibetan hot pot. The function of this unique apparatus, and the Russian method of taking tea, is rather different than we are accustomed to in the west. Instead of heating tea water on the stove, wood or charcoal is traditionally burned within the samovar itself to accomplish this task (modern samovars often use an electric heating element, however). A small teapot sits on top of the samovar, in which a dark, concentrated brew is made, called zavarka. Hot water from the samovar is used to dilute this tea when served. Dark Indian or Chinese black teas are commonly used, often coupled with herbal or fruit teas and enjoyed with lemon and/or jam. Russian Caravan, a blend of black teas with a slightly smoky flavor, is a favorite. To this day, samovars remain a focal point of the Russian home.
For even more information about this and other traditions, visit our Tea Traditions Page!