Organic Japan Benifuuki Black Tea
Our Organic Japan Benifuuki is a rare find indeed! Black tea production accounts for less than 1% of tea production in Japan, and organic certified black tea production accounts for only a tiny fraction of that! Made from the Benifuuki cultivar, this black tea represents the best of its predecessors combining characteristics of an Indian Darjeeling cultivar and Japanese Benihomare. With a maximum of only 200 kg produced annually from the first flush plucking, this organic tea is one you won't want to miss! The wet leaf releases aromas of roasted barley, wheat toast and floral plum jam. A bright golden-red colored infusion delivers a lively cup with medium astringency and notes of buttery sweet yams, marzipan and dried orange rind. Produced by Osada Seicha, in Shizuoka, Japan, this family owned Japanese tea company is deeply committed to "making tea friendly to people and the earth."
Ingredients: organic Japanese black tea
Origin: Osada Seicha, Shizuoka Prefecture, Japan
Located in central Japan, Shizuoka is known as the capital of Japanese green tea production. Though it is not the oldest producer of tea, it is the largest; this prefecture alone accounts for 40 percent of all green tea production in Japan. Mori Machi is located in an area of Shizuoka that is referred to as "organic tea's home." Osada Seicha, the manufacturer and tea garden, has been both growing and manufacturing tea since 1947 and has received numerous international and national awards including a Frontier Prize at the 2010 World Green Tea Contest for their Japan Pu-Erh Tea. For those concerned with the implications of the Fukushima-Daiichi disaster, we continue to have our organic teas from Japan independently tested for radiation.
Steeping Instructions
At Arbor Teas, we believe tea should be brewed to suit your personal taste. We're happy to make recommendations to get you started, but don't hesitate to experiment! When brewing your tea, your main considerations are tea quantity, water temperature, and steeping time. We recommend black teas to be steeped for 3 to 5 minutes in water heated to a full, rolling boil. For the best flavor, use fresh water whenever possible, and avoid overboiling. Try not to steep your tea longer than necessary, as you'll extract undesirable bitterness from the leaves. If you want a stronger brew, don't steep longer, just use more tea. And don't forget to re-steep your tea leaves to get the most out of your leaf!
Looking for more info? Check out our How-To Guides and Eco-Brewing Tips!
Staff Perspectives
Sarah

"Inhale as the mug meets your lips for a malty, floral, sweet aroma and then let the brown sugar cookie flavor coat your mouth. It's delicious!"

Lea

"Aficionados of our Organic Darjeeling Makaibari 2nd Flush Black Tea will find much to admire in this Japanese counterpart. Enjoy gentle maltiness, with punchy coppery notes and a sweet orange marmalade finish."

Aubrey

"The perfumy lavender scent of this black tea is intoxicating! For black tea lovers, it is an unexpected aroma that surprises as much as delights."
Health Benefits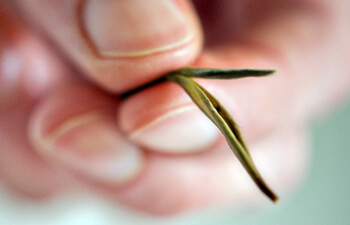 Like all true tea, black tea offers many potential health benefits. Research has found that tea (Camellia sinensis) can have many positive effects on human health, including improved cardiovascular function, cancer risk reduction, improved immune function, improved oral health, and help with weight management. Tea is also full of polyphenols, which are a class of antioxidant that help your body maintain homeostasis and balance your stress levels. Black tea specifically has been found to regulate blood sugar in diabetics better than other types of tea, according to a study done by the University of Massachusetts Amherst.
For more information about the health benefits of black tea and other types of tea, and for direct sources of the above information, check out our Tea Health Benefits page!
Please note: the information above is for educational purposes only and has not been evaluated by the Food and Drug Administration. This information is not intended to diagnose, treat, cure, or prevent any disease.