Organic Holy Basil Tulsi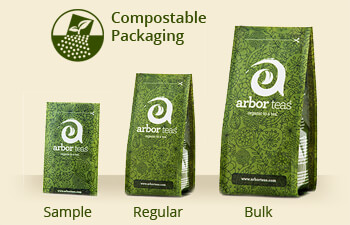 Holy Basil (also known as Tulsi, or Ocimum sanctum) is a popular aromatic plant that is cultivated for religious and medicinal purposes, and is commonly used in Ayurveda. This loose leaf organic Krishna Tulsi can be used to make a delicious caffeine free, organic herbal tea. The holy basil leaf, flowers and twigs create an infusion that is at once cooling in the mouth and wonderfully spicy. Think of it as a blend of flavors including mint, lemons, basil, chamomile, cardamom, rosemary, and nutmeg all fused into an aromatic incense-like concoction. Holy Basil!
Ingredients: organic Indian holy basil (tulsi)
Origin: India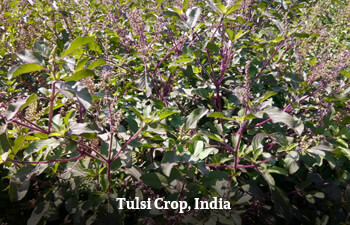 Native to the Indian subcontinent, Holy Basil or Tulsi has been cultivated for centuries in India. Part of the Lamiaceae family and known as the "queen of herbs," it grows best in regions with rich sandy loam soils and good drainage. It is ready for harvest three months after planting and then again every 70-75 days thereafter. In India, it is harvested at the full bloom stage on sunny days to obtain the best yield and oil content.
Steeping Instructions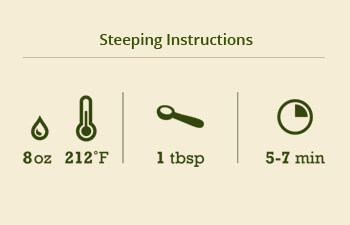 At Arbor Teas, we believe tea should be brewed to suit your personal taste. We're happy to make recommendations to get you started, but don't hesitate to experiment! When brewing your tea, your main considerations are tea quantity, water temperature, and steeping time. We recommend herbal and rooibos teas to be steeped for 5 to 7 minutes in water heated to a full rolling boil. For the best flavor, use fresh water whenever possible, and avoid overboiling. If you want a stronger brew, just use more tea. And don't forget to re-steep your tea leaves to get the most out of your leaf!
Looking for more info? Check out our How-To Guides and Eco-Brewing Tips!
Staff Perspectives
Sarah

"Holy Basil is both warming and cooling! At first sip your mouth and throat are coated in warmth and then after you swallow your mouth is all a-tingle! Lovely."

Chelsea

"Holy Basil is delicious, but a bit hard to describe. I view it as a cross between licorice, chamomile and mint, with some of the same stress relieving benefits of chamomile."
Health Benefits
Holy Basil or Tulsi has been used in Ayurvedic medicine for centuries dating all the way back to ancient India. Known as "The Queen of Herbs," tulsi is now widely known as an adaptogen, meaning that it could potentially help to strengthen the body's resistance to stress and disease. Some scientific studies have shown that holy basil extract has also been found to be beneficial for asthma, type 2 diabetes and skin irritations such as poison ivy and poison oak.
For more information about health benefits of various herbal teas, check out our Herbal Tea Health Benefits page!
Please note: the information above is for educational purposes only and has not been evaluated by the Food and Drug Administration. This information is not intended to diagnose, treat, cure, or prevent any disease.