Organic Honeybush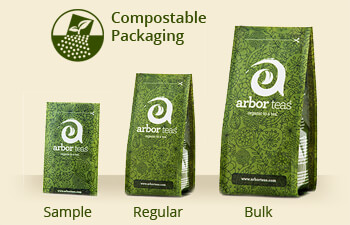 A caffeine-free infusion, our Honeybush is a light-bodied, slightly sweet organic herbal tea with hints of toasted grains and tart plum, with a black pepper finish. This organic African tea has a warm woody aroma with notes of fruity tobacco. Indigenous to South Africa, honeybush was "discovered" in the 1700's when local inhabitants realized that the flowers, stems and leaves from this plant could be used to make a drink that had a pleasant taste with honey-like flavor. Generally the plant is cut right down to the ground during harvesting. The remaining roots do not die however, and within two years they have grown into harvestable size again, quite often nearly twice the size of the original bush.
Ingredients: organic South African honeybush
Origin: Cederberg, South Africa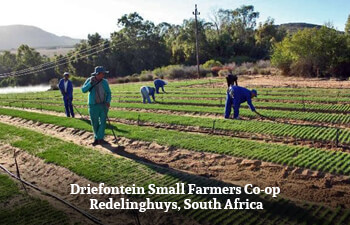 Honeybush only grows in the mountainous Cederberg region 400 miles north of Cape Town on the western edge of South Africa. The Cederberg Mountains are famous for their dramatic, wind-carved sandstone formations like the Maltese Cross and the Wolfberg Arch, well-preserved prehistoric rock paintings by the early San people, and the rare Clanwilliam Cedar trees from which the area takes its name. Arable land is limited by the altitude, dry climate, and rocky terrain of this area. Rooibos is the most famous export from this region, though fruit, tobacco, honeybush, and grapes are also harvested.
Steeping Instructions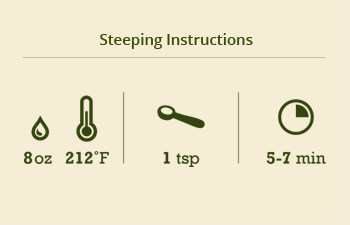 At Arbor Teas, we believe tea should be brewed to suit your personal taste. We're happy to make recommendations to get you started, but don't hesitate to experiment! When brewing your tea, your main considerations are tea quantity, water temperature, and steeping time. We recommend herbal and rooibos teas to be steeped for 5 to 7 minutes in water heated to a full rolling boil. For the best flavor, use fresh water whenever possible, and avoid overboiling. If you want a stronger brew, just use more tea. And don't forget to re-steep your tea leaves to get the most out of your leaf!
Looking for more info? Check out our How-To Guides and Eco-Brewing Tips!
Staff Perspectives
Lea

"Honeybush prepared using the Cold Brew method really accentuates the tart plummy notes, and peppery finish. A unique and flavorful caffeine-free brew for hot summer days!"

Trish

"I like to relax to this nice woodsy tea with a slightly sweet honey overtone."

Jeremy

"Many people ask us how Honeybush and Rooibos differ in flavor - in my opinion, I believe Honeybush is woodier, lighter in body and less tart."
Health Benefits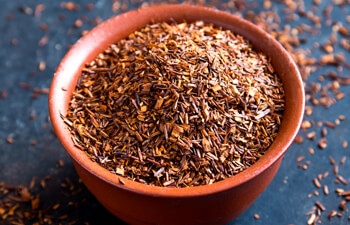 Herbal teas exhibit a wide range of beneficial health properties, as diverse as the plant varieties themselves! Our single-herb tisanes have benefits unique to each botanical, and our various herbal blends include a medley of herbs that boast a combination of health properties.
For more information about health benefits of various herbal teas, check out our Herbal Tea Health Benefits page!
Please note: the information above is for educational purposes only and has not been evaluated by the Food and Drug Administration. This information is not intended to diagnose, treat, cure, or prevent any disease.